Opportunities, Awards, Information, and Press of our members
The Minneapolis & Saint Paul Home Tour

This year, HTA and the Tour are partnering to encourage more tile professionals and homeowners with tile to consider offering homes for the tour. HTA homes will be specially identified in the printed Guide, and there will be an ad in the Guide highlighting HTA homes. Tour coordinator Margo Ashmore has identified a couple already, but more nominations are needed, especially in Saint Paul.
For more information, see the ad in the tile directory and contact Margo Ashmore at 612-867-4874 or visit the website at www.MSPHomeTour.com and use the "submit a home" button.
Fire Destroys Handmade Tile Association Members Studio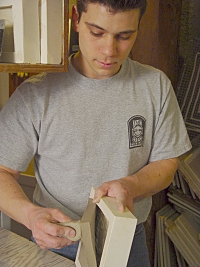 Our dear friend, colleague and long time Handmade Tile Association member Steve Moon suffered devastating studio fire 9/9/12 (http://www.kgw.com/news/local/Auto-shop-on-fire-in-N-Portland-168951026.html). He just finished relocating his tile studio from Seattle to Portland. We are rallying the troops to assist Steve in whatever it takes him and wife Tina to get back on their feet. Steve is also a founding member of the Artisan Tile Northwest and a past president and current treasurer. He tirelessly works for both organizations and is always generous and of kind spirit. We are working on making his ceramics business whole again and help a fellow tiler in need.
Please send him a check if you feel you can help.
Here Steve's home addresses:
Steve Moon
2541 N. Halleck St.
Portland, OR 97217
Thank you all kindly!
Claudia Riedener, ATNW President
Josh Blanc, Handmade Tile Association President
Tile Restoration Center is a small tile company Just Recently Relocated in Portland Oregon, dedicated to producing historically accurate reproductions of American Arts & Crafts tile makers such as Ernest Batchelder and Claycraft.
http://www.tilerestorationcenter.com/
----------------
New American Swedish Institute features handmade tile installation
The American Swedish Institute commissioned North Prairie Tileworks to create the tiles using their famed Turnblad mansion Swedish wood stoves as inspiration. "There is a wealth of classic design features displayed on the Swedish stoves," according to Roger Mayland of North Prairie, "but the challenge for Charlie Henriksen, as the primary designer on this project, was to bring out the few key elements that unite the past with the new tiles." Henriksen hand sculpted each of the designs in clay, created the molds and oversaw the precise and potentially temperamental firing and glazing processes. The tile installation is an ideal representation of the unique artistry and creativity present throughout the HTA's membership.
---------------
How to make a press release
Trebuchet Marketing has made a press release template for members to utilize to create better more effective press releases. Click here to see a full size to print out.

--------------------
Handmade tile does not cost as much as you think
Q. Hello! We received our copy of the 2012 Directory. On page 8, there is a GREAT layout that talks about handmade tile and that it "does not cost as much as you might think." And there are budget comparisons, etc. I thought this was a great tool that I could post on my website

Andrea Best
Best Tiling Inc. | Warrenville IL
A. Yes please use post these budget comparisons on your website and social media.
----------------
Arts & Crafts Conference
John Beasley of Medicine Bluff Studios reporting on the Arts & Crafts Conference at Grove Park in Asheville NC.
Attendance and sales at the 25th National Arts & Crafts Conference at the Grove Park Inn overlooking Asheville, NC far exceeded our expectations. Estimate there were approximately 3,000 people who attended the 3 day Conference and Shows, featuring 125 exhibitors of both vintage and contemporary Arts & Crafts furniture, pottery, tiles, metalware and artwork. The roll of tiles at the Arts & Crafts Conference has seen a minor explosion in both production and interest in recent years as collectors have sought out Arts & Crafts tiles as yet another means of decorating their homes. Some of the tile makers who reported having excellent sales at this year's Arts & Crafts Conference include Penni Lowery, John Beasley & Debbie Hill of Medicine Bluff Studio, Mission Guild Studio, Motawi Tileworks, Linda Witkowski and others. Plans are already underway for the February 22nd-24th 2013 Arts & Crafts Conference at the Grove Park Inn. Information is available at www.Arts-CraftsConference.com or by calling (828) 628-1915"
----------------
Minnesota Tile Festival Award Winners
Stone Hollow Tile- Blaine MN
"Awarded to the artist whose tile in the juror's opinion best
represents the ceramic tile traditions in America"

The Second series of awards was done by Melinda Nelson editor of
Mpls/St.Paul Magazine.
David Achinger Tile - St. Paul MN
Editors Choice

Lea Way Design - Minneapolis, MN
Leann E. Johnson - Best Use of Detail

Stephanie Kaczrowski- Brooklyn Park, MN
Most picturesque

Mercury Mosaics - Minneapolis, MN
Mercedes Austin - Most inventive use of medium
Click here to see each of the artists
Minnesota tile artist takes the title of DIY Dominator
(Minneapolis, MN) – Handmade Tile Association member Mercedes Aust
in of Mercury Mosaics won $10,000 and the prestige of being Tile Dominator on the show DIY Dominator on the DIY Network.
Austin and two other tile experts put their tile and design prowess to the test by designing and creating a bathroom in just 7 hours. The show aired on the DIY Network on June 2nd and 3rd 2011
April Artist of the Month
Deb LeAir's Handcrafted Earthenware Clay Pieces Receive National Attention
(Minneapolis, MN) – St. Paul artist Deb LeAir has been named the Handmade Tile Association's Artist of the Month for her work with handcrafted clay tiles. Her artwork has been published and viewed across the United States. LeAir's works includes vessels, tiles, boxes and decorative installations for rooms. The tile installations can be custom designed to meet the needs of any décor.
Deb LeAir's handmade works will be on display at the Bloomington, MN Art Center until April 8. Her works will also be on display in other cities across the country, including Atlanta and Chicago. To learn more about her schedule, visit debleair.com.
Mosaic Tile Today
Many local mosaic companies and artisans continue to create beautiful mosaic tile installations for homes, companies and public spaces.They're also teaching amateur and enthusiastic hobbyists to create their own works of mosaic art.

Mosaic on a Stick (mosaiconastick.com), a St. Paul mosaic shop, offers supplies and community classes to interested amateurs. Mercury Mosaics (mercurymosaics.com) in Northeast Minneapolis offers beginner and advanced classes. And tile and mosaic artist Sheryl Tuorila (sheryltuorila.com) offers a number of classes on mosaic and tile creation in her studio in the Northrup King Building in Northeast Minneapolis.

In addition to classes, tile and mosaic creators often sell "overruns" or "seconds," which are left over or unused portions of tile that can be recycled and re purposed for new mosaic creations. The free Handmade Tile Association Directory for 2011 offers would-be artisans a number of connections to mosaic and tile artists in order to purchase these materials.
February Artist of the Month


(Minneapolis, MN) – The Handmade Tile Association named Leann E. Johnson, the artist behind Lea-Way Designs, its February Feature Artist of the Month. Leann's work combines the functional medium of tiles with the creativity of African mudcloth and Adinkra symbols. Her tile work includes functional pieces like trays filled with tiles that can be used as coasters. Read more click here.


Artisan Tile Northwest new catalog is unveiled
The Artisan Tile North West located in Seattle WA has just published their first publication of a tile and mosaic artist directory! This is big and great news that the proliferation of artisan tile groups are growing and thriving. The Handmade Tile Association has been encouraging many tile groups to organize for years. Every directory and organized tile group that develops helps create the sense that using handmade tiles as part of American culture is normal. The more the public gets use to seeing handmade tile and mosaics the more they will see it as what they want in their homes and businesses. To get a copy of this new directory contact Steve Moon. Congratulations and we look forward to collaborating with ATNW for many years to come.
Contact Steve Moon Click here to order your free copy today.

2010 Minnesota Tile Festival Award Winners
Congratulations to the Best of Show winners at the Minnesota Tile Festival
Most Unique

Criteria is based on tile that captures the imagination of the jury. Based on subject matter, design, patterning, installation and artwork.

Laura McCaul for Most Unique Designs

Most Innovative

Criteria is based on how a tile is made that advances the concept of tile for any of the following: Designed for better installation, hanging device(s), composition of product, pattern(s), how it is made or designed.

Marty Pearson for Most Innovative

Most Creative

Criteria is based on creative ways the tiles were made, hung, designed, framed, installed and subject matter. Can be based on genre (ie Arts and Crafts, Mid Century, contemporary, Victorian, conceptual, etc).

Sheryl Tuorila for Most Creative